Grosfillex on Designing Spaces
Grosfillex products have been featured on a recent segment of Designing Spaces titled: "Re-Think Resin: Durable, Versatile & Stylish Solutions for Your Outdoor Space"
For Grosfillex resin patio furniture or garden planters please view our Grosfillex product pages. For retailers in your area that offer the products seen on Designing Spaces, please reference our Where to Buy Grosfillex page or contact Customer Service.
Grosfillex Pool Furniture Collection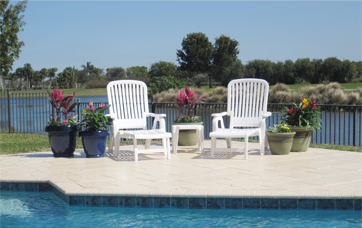 The
Grosfillex pool furniture collection
provides excellent resistance to sun, moisture, chemicals and mold to ensure that your investment remains beautiful for many summers to come. From resin dining tables to resin chairs, lounge chairs and chaise lounges, Grosfillex manufactures a complete collection of resin pool furniture to fit a variety of styles.
Grosfillex Resin Patio Furniture
Over the years,
resin patio furniture
has evolved to provide better design, new colors and added functionality. The traditional white resin chair has given way to Bronze, Charcoal and Taupe colored finishes with sling seats, adjustable backs or folding functionality for easy storage. At Grosfillex, we continue to provide comfortable, stylish and affordable resin patio furniture pieces suitable for any outdoor space.
Grosfillex Garden Planters
Grosfillex Garden Planters
are the perfect compliment to any indoor or outdoor space. Made from highly-durable lightweight polypropylene resin, these decorative planters won't fade, crack, chip or peel in temperatures to -20° F. Grosfillex provides a multitude of colors, finishes and models for our decorative planters in sizes ranging from 15″ to 24″.