Benefits of MaximUp EZ Sport – Sports Storage Unit
Available in 42" and 48" widths.
Sport storage unit with large bag and 2 compartments for hard-to-store items such as balls, bats, gloves, pads, sticks and more.
Sports bag holds up to 60 lbs. of sports equipment.
Sports storage bag is removable and washable.
Solid storage shelves are great for skates, boots, cleats, ski boots etc.
Unit is perfect to use as garage sports storage.
Easy access openings to reach items at the bottom of the sports storage bag.
42″ holds 175 lbs/shelf, 48″ holds 150 lbs/shelf
Easy to clean
Even children can clean up after a day in the yard.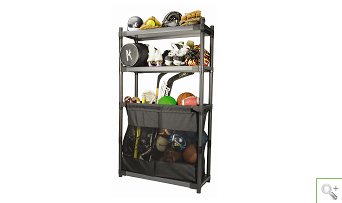 MaximUp EZ-Sport 42″ Sports Storage Unit
Dimensions: 42″ W x 72.25″ H x 16″ D
Capacity: 175 lbs/shelf, 60 lbs/bag, 585 lbs/unit
2 Shelf Plus Sport Bag Storage
Unit Weight: 27.8 lbs.
Assembly Instructions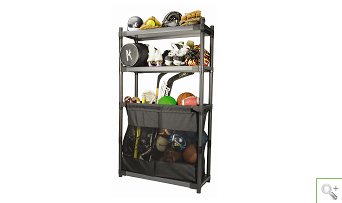 MaximUp EZ-Sport 48″ Sports Storage Unit
Dimensions: 48″ W x 72.25″ H x 16″ D
Capacity: 150 lbs/shelf, 60 lbs/bag, 510 lbs/unit
2 Shelf Plus Sport Bag Storage
Unit Weight: 30.4 lbs.
Assembly Instructions