Grosfillex Outdoor Resin Patio Furniture
Grosfillex Outdoor Resin Patio Furniture redefines the traditional resin furniture products. With innovative designs and modern colors, Grosfillex combines the durable properties of outdoor resin furniture with traditional yet functional styles that are sure to be the most versatile pieces in your patio furniture collection. The Grosfillex Outdoor Resin Patio Furniture Collection comes complete with a 1 year manufacturers warranty and requires minimal assembly. So whether you are searching for a tasteful addition to your outdoor patio furniture set or a complete patio dining set, the Grosfillex outdoor patio furniture collections combine style and functionality to fit your needs.
All Grosfillex Resin Furniture products come with a 1 year limited manufacturers warranty. Please reference our where to buy Grosfillex Furniture page for retailers near you.
Premium Collection
The premium resin table collection offers the durability and functionality of our standard resin top tables but with the added decorative touch of a metal table leg base. The premium resin tables are produced with a variety of decorative table top finishes including Pietra, a beige stone finish, and Teak, a teakwood finish. These resin tables require minimal assembly and are available in a variety of sizes to fit your outdoor space including 46″, 68″ x 40″ and 86″ x 40″. (See Louisiana resin tables.) Grosfillex 86″ premium resin tables come complete with a removable leaf in the center for adjusting the resin table to fit a smaller or larger gathering depending on your needs.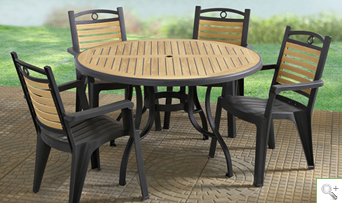 Winston High Back Resin Dining Chair – Charcoal
Louisiana 46″ Resin Top Table – Charcoal with Teak Top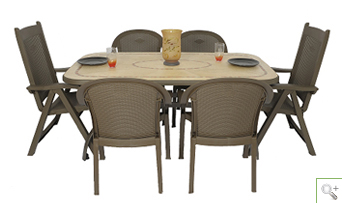 Sumatra 4 Position Resin Dining Chair – Bronze
Sumatra High Back Resin Dining Chair – Bronze
Louisiana 68″ x 40″ Resin Top Table – Bronze with Pietra Top
Standard Collection
The standard resin table collection is manufactured with 100% polypropylene resin and do not require any tools to assemble. The resin table bases and resin table tops are offered in a variety of colors including White, Taupe, Bronze and Charcoal. The standard resin tables can be produced with or without a décor finish on the table top. (See Bahia Décor, Victoria Décor and Miami resin tables.) Our standard resin table collection is offered in a variety of sizes including a round resin table size of 46″ and two oblong resin table sizes of 68″ x 40″ and 86″ x 40″.
Grosfillex Resin Dining Chairs
Our High Back Resin Dining Chairs are stackable, sturdy and durable. These outdoor resin chairs can accommodate up to 250 lbs. and will never require sanding or painting. You can be certain your resin furniture will not fade in the sun over time since each piece is manufactured using UV inhibitors and is the same color throughout.
Grosfillex Folding Resin Chairs
The Grosfillex line of resin folding chairs are complete with a four position adjustable back for reclining comfort. Available in either charcoal or bronze, these chairs are designed to fit a wide variety of décor styles and color combinations. With the same properties as our resin dining chairs, the resin folding chairs provide a reclining function with the ability to fold for easy storage.